Innovative Solutions to Limited Access Excavation Work Sites
Limited access ex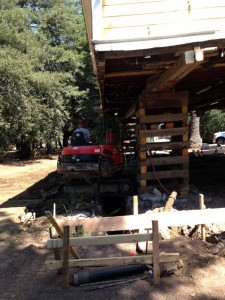 excavation, sometimes referred to as tight access excavation refers to jobsites that are difficult to stage excavation operations. For example accessing a backyard to excavate a swimming pool or dig trenches may present a tight access situation if the yard is fenced or the neighbor's residence is in close proximity (zero lot line construction).
It's easy to imagine tight access work sites in residential or urban environments but the remote steep hillsides of Marin, Sonoma and Napa counties can present equally challenging "limited access" excavation challenges. Excavation requires more than just the equipment that moves the earth. Materials need to be removed (or brought in) and that means having a place to stage an excavation operation. City ordinances or undeveloped, difficult terrain can by themselves create a limited access excavation site.
Cost Saving Limited Access Excavation Solutions
Over the past 16 years All Phase Excavation has successfully completed scores of tight access projects in both urban and rural environments. Our experienced management surveys the site and then creates a plan taking into consideration local ordinances and HOA regulations to gain access without using the all too often practice of hoisting the earthmover into place with an expensive crane.
Our equipment inventory includes machines ideally suited for limited access excavation and the removal of earth and debris. Our crews are experienced and expert at working in tight conditions. Our focus is accessing the site and performing the task without requiring expensive modifications or utilizing expensive "single purpose" equipment. The net result for the client is a well thought out excavation plan, professional execution and no premium charge for excavation service done on a limited access site.
Tight Access Projects:
Limited access projects can take on many forms. Here is a short list of some of our most frequent project types:
Backyard pool and spa excavations
Plumbing, electrical and other utility trenching
Footings excavation
Post and stump hole drilling
Concrete flooring or slab demolition
Hillside excavation
Excavating temporary staging pads
Material export/import
If your next project requires limited access excavation and you want an experienced firm with a solid reputation for coming in on time and on budget then give All Phase Excavation a call. We service Marin, Napa and Sonoma counties and would be happy to review you site and offer up a competitive proposal.
Call us today and start your project with the confidence of knowing that the first task on the critical path is in good hands.
Not Found
Apologies, but no results were found for the requested archive. Perhaps searching will help find a related post.