"On time and on budget" is the goal of every excavation service company and at All Phase Excavation Service we add "done to perfection" to that tag line. When the carpenters show up to build the forms they'll find a site that is excavated to specifications, minimizing unnecessary work.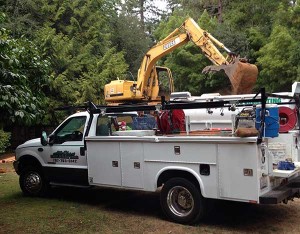 We understand that a general contractor's primary concerns when selecting an excavation service include experience, capabilities, capacity, reliability, flexibility and of course a fair price. Excavation is typically the first task in starting a project and if that task is not performed to spec or is delayed it can have a serious impact on the success of the overall project. We understand the importance of being reliable and are prepared to perform the job as expected.
The company started when founder and owner Vince Cheney launched All Phase Excavating in May of 1998 with a single bobcat and a pickup truck. He figured the way to be successful as a business owner is to do what you do best. "I really do enjoy excavating. I get a kick out of it and I decided that as I grew I would surround myself with other people who liked working excavation as much as I do."
Serving Marin, Napa and Sonoma counties All Phase Excavating is headquartered in Penngrove with an equipment yard centrally located in Sonoma County. All Phase Excavating has grown from a single bobcat and a truck to 22 pieces of excavating and hauling equipment specifically acquired to tackle client needs. All Phase Excavating has the capability to tackle any excavating project large or small, from ground clearing to hauling debris.
If It's an Excavating Challenge We Want a Shot at It
As a general contractor you may not be overly concerned if your excavator is has a passion for moving earth but if you think about it, people who really enjoy their work are typically better at it than most. They see difficult jobs as a test of their skill and that's why we excel at tight access, hillside excavation, full and partial structure demolition and abatement and other demanding excavating projects.
Vince is personally involved onsite in every project often working side by side with his crews. This onsite management involvement assures quality work and allows for streamlined communications with the general contractor.
All Phase is a Responsible Community Business
Is there a Californian that is not aware of the state's efforts to protect and improve our environment? At All Phase Excavation we are in full compliance with requirements with DPF requirements and our abatement service is certified for the removal of asbestos and lead. Where we can go green we do.
We are of course fully licensed and insured and place an emphasis on safety in all of our operations.
We keep up with the community's business trends as members of the Marin Builder's Exchange.
When you need it done right, and on time, and on budget you need to contact us at 707-795-0142. We will be delighted to discuss your project, survey the site, offer suggestions and give you a competitive quote for our services.
Other Services
Site Preparation
Tight/Access Excavation
Trenching
Demolition
Material Export/Import
Drilling
Latest projects
An aerial view from a drone of the project

Learn more

Shoring a failing foundation for a residential home in San Anselmo,…

Learn more