All Phase Excavation's Truck Fleet - Bringing Flexibility and Enhanced Capability to the Work Site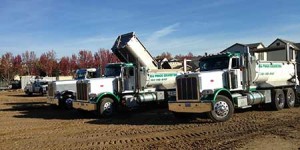 One of the keys to All Phase Excavation's reliability and flexibility is its proprietary fleet of trucks. Excavation equipment and the trucks that support them work hand-in-hand on nearly every excavating project from site preparation to demolition to drilling piers. Since All Phase Excavation owns its fleet rather than relying on outsourcing to sub-haulers, communication, coordination and overall management is enhanced resulting in efficient, time saving performance.
Streamlined operations are a major benefit of having a company owned trucks but of even greater value is the flexibility afforded by the fleet. The tractors (all of which are CARB compliant) can be paired with a variety of trailer configurations to ensure that the best hauling solution is always available regardless of the type of project.
Adding Value to every Project
All Phase Excavation has earned an excellent reputation as an "on time, on budget" Bay Area excavating contractor. What differentiates us from the competition is that extra added value that we bring to every job. Our company owned truck fleet plays an important role in ensuring timely completion of projects, efficient excavation operations and easy, no hassle communications between the company and our clients.
Being able to draw on our own fleet of tractors and trailers provides allows us to provide a level of service not routinely found with the competition in Napa, Sonoma or Marin County. Benefits include:
• Proprietary trucks and company drivers combine to streamline the performance of hauling operations and excavating activity. Trucks are where they are needed when they are needed.
• Import/Export of material can be timed to optimize excavation operations with no down time waiting for a sub-hauler truck.
• The entire inventory of All Phase Excavation's earth moving and drilling equipment can be quickly mobilized for delivery to a work site thanks to the truck fleet equipped with flatbed trailers.
• Trailers are matched to the job. For example our Debris box trailers are perfect for stone and concrete removal while our conveyor trucks offer a solution for tight access projects.
• Changes in schedule by the general contractor can be quickly implemented without delay or additional costs that are associated with using sub-haulers.
When you need it done right the first time; when you want an excavating contractor who is easy to work with; and when you want it done on time and on budget you need All Phase Excavation. Give us a call today and we will be happy to discuss your project, survey the site and prepare a comprehensive, cost effective proposal.
Not Found
Apologies, but no results were found for the requested archive. Perhaps searching will help find a related post.