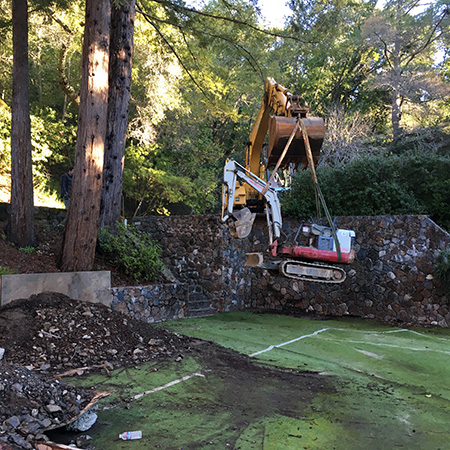 This picture is of a residence in Kentfield, the project involved demolition of an existing house which was at street level. As well as excavate new utilities to the house, there was a challenge with this because the existing utilities needed to be connected at the tennis court elevation shown in the picture. There was about a 12' elevation change to access these utilities, gas, elec, and water services. The solution was to pick or crane the smaller equipment down to the tennis court as needed to expedite the digging and get the utilities in ground as soon as possible.
We also removed the failed tennis court that was in bad shape, to be replaced with a newly landscaped lawn and pool area soon.
Vince started All Phase Excavating started out as a Limited Access Excavating Co in 1988 over the years we have branched out with our excavating services using our large 40,000 lbs excavators to remove houses and excavate house pads, utilities, and drainage work. Our bread and butter work is our Limited Access or very difficult access work, such as under house or structure work. We have various sizes of excavators and loaders from 3' wide to 9' wide performing demolition as well as pier drilling. We take pride in having safe, competent employees. The latest in CARB compliant, dependable equipment to keep your projects on schedule. Please feel free to contact us with your difficult access site or project.
Video footage: