All Phase Excavation's Truck Fleet - Bringing Flexibility and Enhanced Capability to the Work Site
One of the keys to All Phase Excavation's reliability and flexibility is its proprietary fleet of trucks. Excavation equipment and the trucks that support them work hand-in-hand on nearly every excavating project from site preparation to demolition to drilling piers. Since All Phase Excavation owns its fleet rather than relying on outsourcing to sub-haulers, communication, coordination and overall management is enhanced resulting in efficient, time saving performance.
Streamlined operations are a major benefit of having a company owned trucks but of even greater value is the flexibility afforded by the fleet. The tractors (all of which are CARB compliant) can be paired with a variety of trailer configurations to ensure that the best hauling solution is always available regardless of the type of project.
Adding Value to every Project
All Phase Excavation has earned an excellent reputation as an "on time, on budget" Bay Area excavating contractor. What differentiates us from the competition is that extra added value that we bring to every job. Our company owned truck fleet plays an important role in ensuring timely completion of projects, efficient excavation operations and easy, no hassle communications between the company and our clients.
Being able to draw on our own fleet of tractors and trailers provides allows us to provide a level of service not routinely found with the competition in Napa, Sonoma or Marin County. Benefits include:
• Proprietary trucks and company drivers combine to streamline the performance of hauling operations and excavating activity. Trucks are where they are needed when they are needed.
• Import/Export of material can be timed to optimize excavation operations with no down time waiting for a sub-hauler truck.
• The entire inventory of All Phase Excavation's earth moving and drilling equipment can be quickly mobilized for delivery to a work site thanks to the truck fleet equipped with flatbed trailers.
• Trailers are matched to the job. For example our Debris box trailers are perfect for stone and concrete removal while our conveyor trucks offer a solution for tight access projects.
• Changes in schedule by the general contractor can be quickly implemented without delay or additional costs that are associated with using sub-haulers.
When you need it done right the first time; when you want an excavating contractor who is easy to work with; and when you want it done on time and on budget you need All Phase Excavation. Give us a call today and we will be happy to discuss your project, survey the site and prepare a comprehensive, cost effective proposal.
New Addition: Debri Box Truck
The box on the truck is a 30 cubic yard capacity specifically for light weight Debri. We also offer smaller boxes for concrete and dirt as well.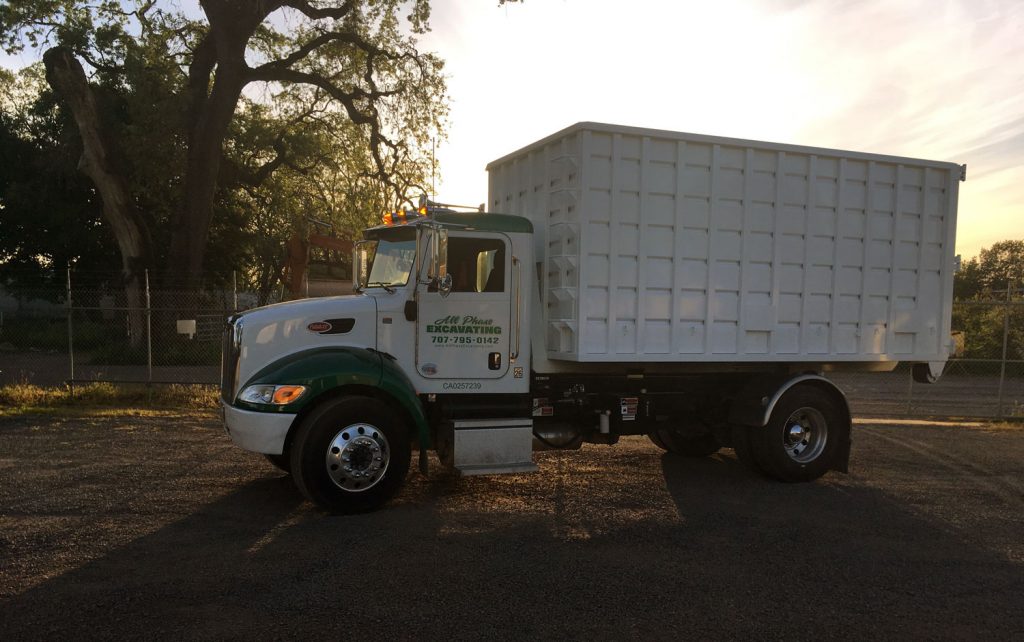 Testimonials
All Phase Excavation have been a great asset to the construction services we provide to our clients. Vince's thoroughness, reliability, and his work force sets him apart from any others I have worked with.
Josh Klein
Josh Klein Construction, Inc
---
Going on 20 years, All Phase Excavating has been my first phone call for services like:
Grading, drilling, demo, setting steel soldier beams or frames, underpinning, material handling, drainage, and of course, general excavation.
Besides being at the top of the list in his work, Vince is an excellent communicator, and has always been easy to work with.
The reason his employees reflect a lot of Vince's qualities is that his leadership sets the tone.
I always look forward to working with All Phase on a project, because he wants it to be a success every bit as much as I do.
Keith Hughes
Hughes Structural Inc.
B, C51, #521073
---
As a general contractor working in Marin for 30 years, I've had the opportunity to work with a lot of excavation contractors. Vince and his crew are always very organized, on schedule, and very workable with all excavation work in our county. He did the excavation for my own home, and it was a pleasure to work with him. We will continue to do business with him and his crew for much time to come.
Jeff Kerr
Kerr Construction Inc.