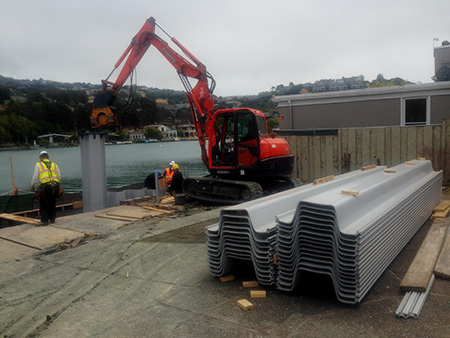 The photo shown is a vinyl sheet pile install being conducted in Belvedere CA, for a new residence on the Belvedere Lagoon. The soils in the area consist of soft bay mud. The Engineers on this project were concerned that soft soils would move in the event of an earth quake or ground movement. As a result of soil movement the possibility of the structure being undermined.
All Phase Excavating was contracted to install 50' vinyl sheet pile wall to contain soils, 24" wide sheets by 20' long were impact driven to a depth of 14' as per structural engineers direction. This wall will ensure that soils will remain in place and provide peace of mind for the new home owner.
The use of vinyl sheet pile is vast here are just a few uses it can utilized for:
Containment of soft or liquefied soils.
Shoring either temporary or permanent for caving soils such as sandy materials.
Other advantages to using Vinyl Shoring is its light weight compared to steel makes it easy to transport, lift and handle. There is also the Green Factor because we use this product quite often in marine applications where rust and contamination is factor with steel piling, this is not the case with vinyl sheet piling. This is a plus for marine life and keeping in alignment with required Fish and Game Standards.